Category:
W.9-10.7 (Writing | Research to Build and Present Knowledge)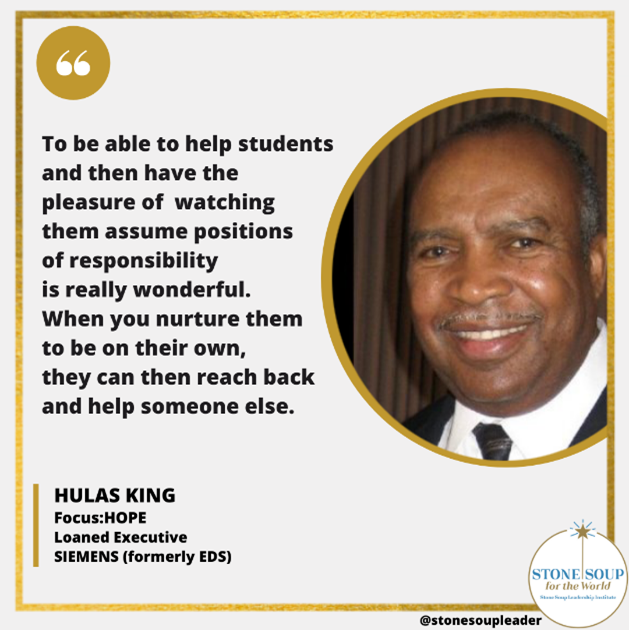 EDS Chairman Les Alberthal came from a small town in Texas where everyone knows everyone else, and helping your neighbor is "as natural as pulling on your cowboy boots." He encourages his 95,000 employees to live out his philosophy that healthy communities and healthy business go hand in hand. This is the story of how one EDS executive, Hulas King made a big difference in the lives of young people at Focus: HOPE in Detroit where a state-of-the-art technology center trains high school students to become manufacturing engineers and machinists. "Since the center's founding in 1981, more than 5,000 young people have moved out of poverty and forward in their lives," says Hulas. "For kids once on welfare and walking the streets, that's an incredible future." For Maia Cherry, one of the students mentored by Hulas, the personal attention and encouragement she received were as valuable as the technical training. "There are so many smart young people, and they don't even know their potential," says Maia. '1want them to know, if you have the desire, you can do it!"
Massachusetts Learning Standards:
SLCA.9-10.5
Make strategic use of digital media (e.g., audio, visual, and interactive elements) in presentations to enhance understanding of findings, reasoning, and evidence and to add interest.

W.9-10.7
Conduct short as well as more sustained research projects to answer a question (including a self-generated question) or solve a problem; narrow or broaden the inquiry when appropriate; synthesize multiple sources on the subject, demonstrating understanding of the topic under investigation.
Skills:
Nurturing, Commitment, Moral Responsibility, Hope, Success